At Prosperity we have extensive experience working with businesses and understand the importance of real time financial information. It's critical for business planning and future growth. Our virtual CFO and bookkeeping service gives you the opportunity to take your business to the next level.
Prosperity can manage your finance function as well as help you understand the financial health of your business to provide you with valuable financial projections and give your team strategic advice as your business grows.
We see ourselves as an extension of your business, either as your outsourced finance team, part of your existing team or anything in between. Irrespective of the size of your business, our Virtual CFO and bookkeeping service can be tailored to suit your specific needs.
We take the hassle out of daily processing so you feel in control and have the freedom to focus on what you're good at.
Our Approach
We collaborate with you to understand your finance function so you can focus on running your business with an outlook to the future.
Collaborate: Working with you to develop a deep understanding of your business
Prosperity will work with you to develop a deep understanding of your business. We can walk you through your financial statements including Profit and Loss and Balance Sheet, and any other reporting requirements.
Focus: Transforming your finance function
As part of your team, we identify operational improvements by exploring how to transform your finance function. We can bring you up to date with the latest in cloud solutions and assist in transitioning your current platform: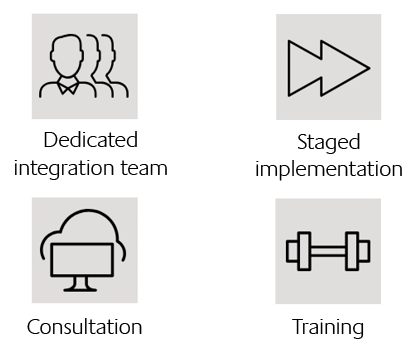 Our bookkeeping team can manage your finance function from end to end, driving efficiencies, saving you time and providing business performance insights. Our bookkeeping service is tailored and aligned to your changing needs:
Processing Bank Statements, linked to your cloud accounting solutions
Accounts Payable management including invoice processing, payment runs and statement reconciliations
Accounts Receivable Management including invoice generation, statements and overdue reminders
Inventory Management
Project Costing
Fixed Asset Maintenance
Reconciliations
Payroll services
Activity statement preparation and lodgement
Outlook: Securing your future
A robust plan is critical to future success. Reflecting your business goals, we develop a realistic and achievable roadmap to help you get there.
We can assist with:
Budget setting
Forecast modelling
Cashflow management
KPI setting
Accounting staff training
Systems and process improvement
Internal control analysis
Overall advice on how to get you there