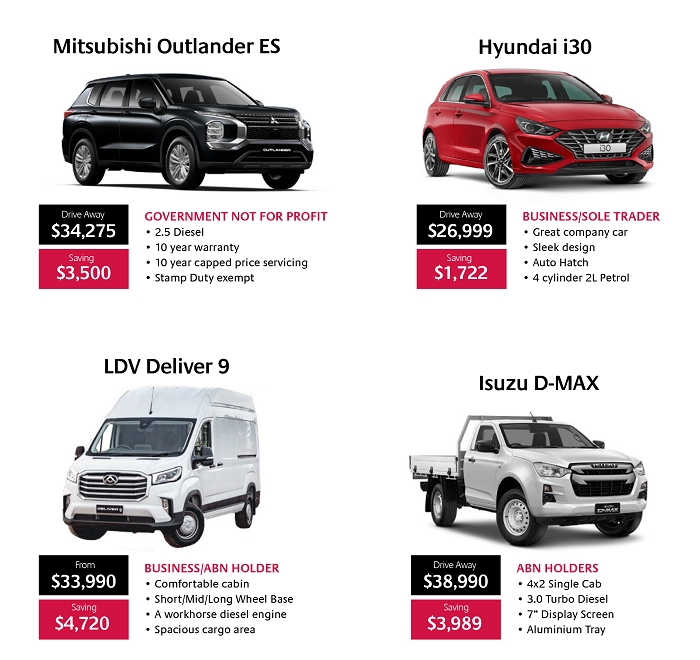 Click here to view our recent offer and and savings.

Click here to view our FAQs on Electric Vehicles.

Click here to have your current car valued and follow the simple steps.
What is Prosperity Smart Drive?
Prosperity Smart Drive is an innovative vehicle procurement leasing and management service, essentially a one-stop shop for your vehicle.
A novated lease is an arrangement between you, your employer and a finance company, allowing you to salary package the lease payments and running costs of your car, for 100% private use.

The lease payments and running costs are paid from your pre-tax pay which means that the tax savings and other benefits provides you with a great alternative to buying a car outright.
About Prosperity Smart Drive
Our unique end-to-end service handles all aspects of your lease, from sourcing the vehicle, arranging finance, through to managing the ongoing running costs.
Procurement of new or used vehicles at the best available prices
Sourcing of competitive finance
Access to a full suite of insurances and vehicle protection products
Administration of fleet card for all fuel and servicing costs
Roadside Assistance program
Ongoing monitoring and reporting of costs via secure web portal
Our fleet card (linked to WEX Motorpass) gives access to over 6,100 fuel, and 5,900 non-fuel sites Australia Wide, giving the ability to refuel and pay for vehicle servicing, tyres, car wash, and windscreen repairs. For a full list of merchants that accept the WEX Motorpass card, click here.

Use discount repairers for vehicle maintenance and servicing, plus fuel and oil. (Beaurepaires, O'Brien Glass, Marshall Batteries and several independent repairers).
Why should I lease my car?
Save money:

Remove GST on the purchase of your car or on its operating expenses
Reduce your income tax by salary packaging your lease payments and running costs
Receive significant discounts on new and used cars and competitive interest rates.

Save time:

We manage the whole process for you with no running around by you
We scour the market for the best price so no need for you to visit car dealerships.

Complete control:

You can centralise your budgeting with costs managed through regular payroll deductions
You manage the car, including care and maintenance
You use a fleet card for fuel and servicing
You choose the vehicle and the lease period.

Flexibility:

Leases can be transferrable between your employers
Flexible contract terms are available, ranging from one to five years.
Why should I package a car through Prosperity Smart Drive?
We provide independent advice across the range of makes and models of new and used vehicles in Australia covering price and extras including running costs and resale estimates
We use our extensive motor vehicle networks to access excellent discounts, including fleet, dealer and manufacturer discounts where available*
We deliver a hassle-free experience with no need for you to leave your home or office to organise anything
We look after your trade-in disposal by putting your vehicle to tender within our motor vehicle network
We manage all dealer contacts, including quoting, all paperwork, arranging test drives, and vehicle delivery.
*Manufacturers availability and discounts available will vary and can only be confirmed at time of full quotation.
How your running costs are managed:
We forecast and monitor all budgeted operating expenses by regular payroll deductions to pay for future reimbursement of expenses, including:
| | |
| --- | --- |
| | |
| Registration | Fuel |
| | |
| Servicing | Tyres |
| | |
| Insurance | Roadside assist |
How to track your lease:
Through our Prosperity Salary Packaging mobile App, you can access an instant snapshot of your current expenditure, annual plan and km's travelled. All WEX Motorpass card purchases and odometer readings are updated weekly with all other expenses updated daily.
Protecting Your Investment:
Prosperity is an authorised reseller of MotorOne quality vehicle protection products, designed to give you peace of mind when it comes to maintaining your new car. Products include:
Premium Window Tint
Paint Protection
Seat and Interior Protection
Vehicle Digital Video Recorders
Minor Scratch and Dent membership



Getting started
How to arrange a lease:
Contact the Prosperity Smart Drive team on 1300 761 388, or email smartdrive@prosperityadvisers.com.au with your enquiry
We will send you an application form and an information guide
We will contact you and discuss your vehicle options
After choosing your vehicle, we discuss your options and help you complete and submit your application form
Receive your full Prosperity Smart Drive plan and review in your appointment
Sign and provide your confirmed plan
We manage all the paperwork and delivery of your new car!